Have you ever tried to take a flight while dealing with an injury? It can feel like navigating an airport is a feat in itself – let alone having to rely on crutches to get around! But fear not, fellow flyers: with a few handy tips, you'll be navigating the busy terminals with ease. Read on to learn how flying with crutches doesn't have to be so daunting.
Tips for making the airport experience easier
Navigating an airport while on crutches can be a challenging experience. Whether you are flipping through the paper or trying to make your way to the gate, there can be certain inconveniences that come along with it. Here are some tips that can help make the experience easier and less stressful:
Research beforehand: Before arriving at the airport, do a little research to see what amenities the airport has, such as drop-off areas, wheelchair assistance, and other assistance services that may be available. Knowing ahead of time what you may need or services available will make your travels much smoother.
VIP services: When traveling with crutches, it may be worth considering VIP services at the airport. These services typically offer assistance with check-in, baggage handling, and transportation to and from the gate. There are some airports that even have exclusive lounges for VIP guests, providing a comfortable and stress-free environment before your flight.
Bring all relevant documents: Having copies of your doctor's notes and prescriptions as well as any other documents you may need on hand will help minimize delays or interruptions during your travel process.
Book an aisle seat: Booking an aisle seat for flights is always recommended for people with injuries or crutches; it makes transferring easier since you don't have to try to maneuver around others' seats and bags in order to get where you need to go.
Ask for help: Don't be afraid to ask people around you for help when needed; most people traveling are more than happy to lend a helping hand when they can! When navigating busy lines or security checks in airports it may be beneficial (and less physically taxing) if someone helps carry your bags or luggage items—simply asking politely can go a long way!
Things to keep in mind when flying while injured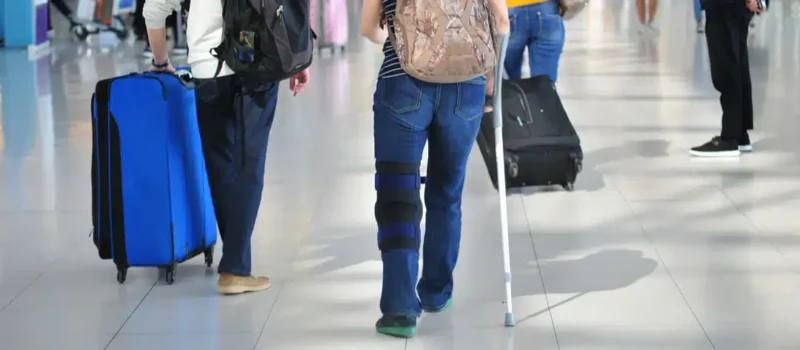 Flying while injured can be stressful, but it doesn't need to be. Preparation and planning are key for a safe, successful travel experience. It's important to keep these tips in mind when planning your trip:
Before booking your flight, contact the airline for information about their policies on flying with crutches or other medical items.
Pack small items in a carry-on bag, so you don't have to worry about luggage getting lost or damaged during transit.
Allow extra time to reach the airport; this will ensure that you don't miss your flight due to unforeseen circumstances such as traffic delays or long security lines.
Consider bringing noise canceling headphones to cancel out excess noise and provide some comfort during the long flights.
Wear loose fitting clothes that are easy to take on and off in case of injury complications or flare ups while traveling. Especially if you have been through a total hip replacement, tight clothes can restrict movement, or twist around the surgical area in the long hours of sitting to cause pain.
Depending on the severity of your injury, consider investing in a knee support brace if needed for extra support during the flight and journey from the airport terminal to your end destination.
Conclusion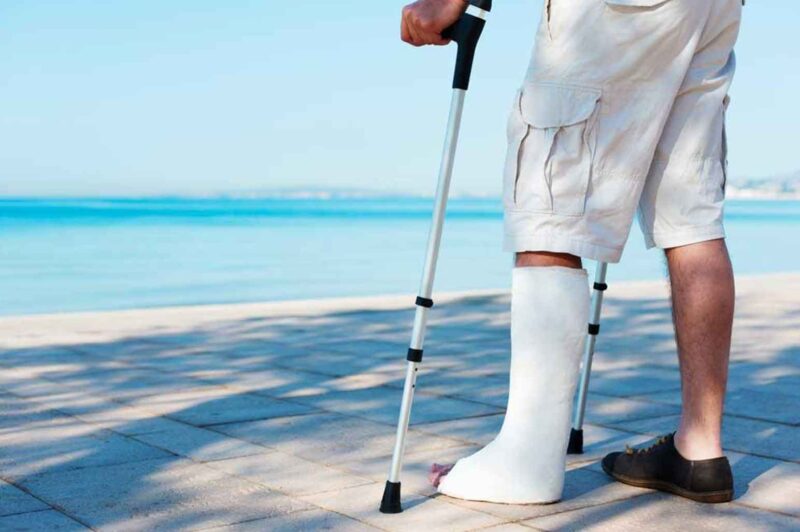 Getting through the airport can be a difficult task for anyone, but even more so for someone on crutches or with other medical needs. By preparing ahead of time and anticipating any issues that may arise during the process, you can help make the experience as stress-free as possible.